Everyone who lives in a home or owns property knows many risks associated with their property. Even if you live in a safe and secure neighborhood, your property is at risk for potential calamities such as fires, floods, tornadoes, etc. If you have a gas line on your property, it's important to understand whether or not you need gas line insurance to protect the value of your home and personal assets from any potential damage. These risks should not be taken lightly.
According to the Insurance Information Institute (III), there were over 14,000 natural disasters in 2017 alone, up from 12,400 in 2016. Although most homeowners' policies will cover some of the cost of repairs after a disaster strikes, they won't cover everything. Therefore it's important to understand the details and benefits of gas line insurance before it's too late.
How does the Gas Line Insurance Work?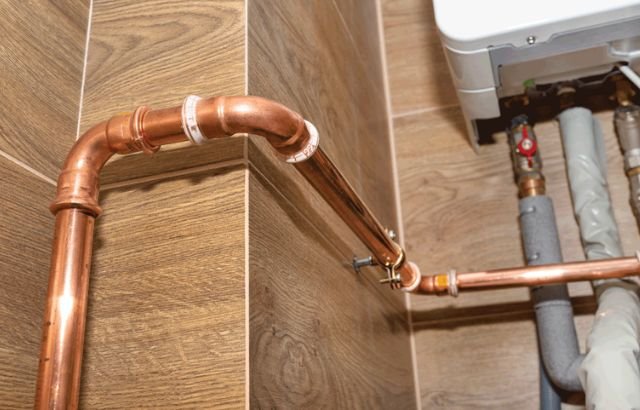 If you have gas line coverage, your insurance company will pay for the pipes that bring natural gas to your home. This insurance covers both pipes that are underground and pipes that are above ground. If your kitchen gets damaged, the insurance company will pay for the repairs needed to get the gas back on. 
The same applies to utility line insurance but covers many more things. There are many kinds of insurance for utility lines that cover things like electric wires, phone lines, and the connection to gas, water, and sewage.
When someone has insurance, they can plan for keeping and fixing utility lines, which can be expensive. Some homeowner's insurance plans cover utility lines, so you must check with your insurance company before buying extra coverage.
Who is Responsible for Protecting the Gas Line?
The gas company is in charge of the gas line from your home to the street most of the time. In this case, you only need to pay attention to what comes into your house from the meter. If the line you are in charge of is short, repairs may be easy, cheap, and not often needed. So, if you don't want insurance, you could save a small amount of money for a rainy day.
If you do the math, you can ensure that you need gas line insurance for your home. We all buy insurance if needed, but think about how much it would cost to fix something if you didn't have it. 
If your underground gas line breaks and it will cost you $7-$10,000 to fix it, you can choose to get insurance if it will cost you $50 or less a year. In this case, it would take 100 years to pay for insurance. One gas line could break or leak, but not both. If your insurance costs are too high, you can go without it because the gas line probably won't break.
What does homeowners' insurance cover?
Homeowners' insurance covers many things that happen to the whole house, not just the service lines. Some insurance plans cover damage to a home's structure, foundation, furniture, and other things inside the house. Winds, tornadoes, and fires can all do a lot of damage to something.
Some home insurance policies cover service lines on their own. If your policy covers service lines, it doesn't make sense to have a policy for gas lines. It's pretty much the same.
Is it necessary to have Gas line insurance?
It would help to get insurance for your home's gas or utility lines. It pays for everything that needs to be done to fix your broken utility lines. These lines don't fail often, but it's expensive to resolve them. People who own their own homes should ensure that their insurance covers this cost.
Some homeowner's insurance plans only cover a small part of the cost, but that still helps. Your package doesn't cover utility lines because it doesn't cost very much to fix them.
If gas line insurance is included in your homeowner's policy, you won't have to buy it separately. Find out what part of the gas line is your responsibility and how much it will cost to fix if it breaks. 
As long as the cost of repairing the gas line is less than what you'd pay for insurance, you don't need it. Instead, you should save a lot of money when things go wrong. If the insurance premiums are less than the cost of fixing the car, you will need one.
Talk to your home insurance company first if you need insurance for your utility lines. It's easier, and you can get a better deal if you work with people you know. You can also find out if you need more insurance at this meeting. Don't stress out about it. You'll probably save money if you don't go to another company.
After you talk to your company about getting gas insurance, people who bother you about it will stop. We hope this post will help you better understand your homeowner's insurance and when you need to ensure your utility lines are safe, too.
Frequently Asked Questions
Does your insurance cover gas lines if you have it?
Your homeowner's insurance pays for part of the gas line you own. The lines for electricity and water are the same. Gas leaks and other problems with the bar itself are often covered by insurance. Each home insurance policy is different, so you should always read yours and have a professional look it over to understand it.
Some insurance plans don't cover the gas lines. In this case, you might need a service line insurance policy to pay for the pipe repairs. But when you think about how much insurance costs, it's crucial to consider the chance of a gas line problem and how much it would cost to fix. It doesn't mean that the risk-reward ratio works out for you because a company has a policy.
How gas systems work?
For natural gas to move through pipes, it needs pressure. A lot of gas moves from a place with a lot of pressure to an area with less stress. After you remove the natural gas from the ground, it goes through a highway-like system of pipes and ends up in systems that bring the gas to your home.
Gas moves from the mainline or distribution line into a home or other building in a service line. You can maintain this line by the natural gas company services. All equipment and gas lines that come after this service line are the customer's responsibility.
It goes through a pressure regulator before the gas enters your house, making it less powerful. When you turn on your gas furnace or stove, it takes a little while for the gas pressure to rise above the air pressure. The gas then flows out of the burner and into the heating unit to turn it on.
Conclusion
Nationwide, running a gas line costs $550. Prices range from $265 to $850, or about $20 per line. Before you can do this, you'll need to get permission from the city.
Installation of gas pipes depends on how hard it is to vary the price. Facilities of rigid surfaces can cost more than $1,000. An example is when you need to run pipes under a driveway or other structure. For as little as $200, you can need to put pipes in a straight line from the main gas line.
If you add an appliance like a water heater or furnace or switch your system from electric to gas or propane, you will need to add new or more extended pipes. The total cost of gas piping will depend on whether you already have gas lines or need to install new ones.
References