Is renters insurance mandatory? Renters insurance is a type of insurance that covers your personal belongings and your responsibility. Although renters insurance is not a requirement by law, it is permissible for your landlord or management company to insist that you and other tenants in your apartment building or house obtain renters insurance as your lease agreement.
You will only require renters insurance if your landlord or the building you live in mandates it. 
However, wealthy tenants may also want renters insurance. This is to mitigate the economic impact of harmful, unforeseen events in their rental property.
Renters insurance is a type of insurance that covers your personal belongings and your responsibility. 
Why does your Landlord Requires Renters Insurance?
There are a variety of reasons why your landlord might need tenants to carry renters insurance, including the following:
It reduces their legal liability. 
A guest who suffers an accident while visiting your house and you do not have renter's insurance liability coverage to pay for their medical treatment. That may file a claim against your landlord seeking reimbursement. It is your landlord's responsibility to ensure that you have renters insurance. 
This ensures that your insurance company is the first one to pay guests compensation. This reduces the likelihood that your landlord is responsible for the claim's court costs.
It prevents you from attempting to obtain compensation from them. 
Owners of rental properties and their insurance providers are only liable for structural damage to the structure of the building. The problem is that many tenants aren't aware of this. So, they assume that the landlord will replace their personal property and belongings in the event of a tragedy. 
If they can get the insurance, your landlord reduces the likelihood that they must replace your items if something happens to them.
Another expense that landlords are not responsible for is arranging for alternative housing. So, if your unit becomes unlivable due to a fire or other tragedy, they don't cover that. 
Once again, many tenants are unaware that their landlord would not reimburse them for the cost of staying in a hotel after a fire. However, renters insurance will. Landlords require Renter's insurance to ensure tenants cover their property and additional living expenses and those they do not turn to the landlord in a catastrophe.
It provides them with the ability to recoup damages. 
You may be responsible for any damage to the building if you accidentally start a fire in your unit, such as water damage by leaving the tub running (for example). 
Your landlord's insurance will pay for the damages to the structure after your landlord has paid the deductible. If you have renters insurance, your landlord may be able to reclaim your deductible from your insurer.
How much Renters Insurance do Landlords Require?
Generally, if your landlord needs you to have renters insurance, a term in your lease agreement will specify the amount of coverage you must have. However, most landlords do not specify how much personal property coverage you must have. Many do determine how much liability coverage they anticipate you to have. So, a liability limit of $100,000 is a standard requirement, though your landlord may want a higher maximum.
Read More: Renter's Insurance Certificate Holder
When is Renters Insurance Required?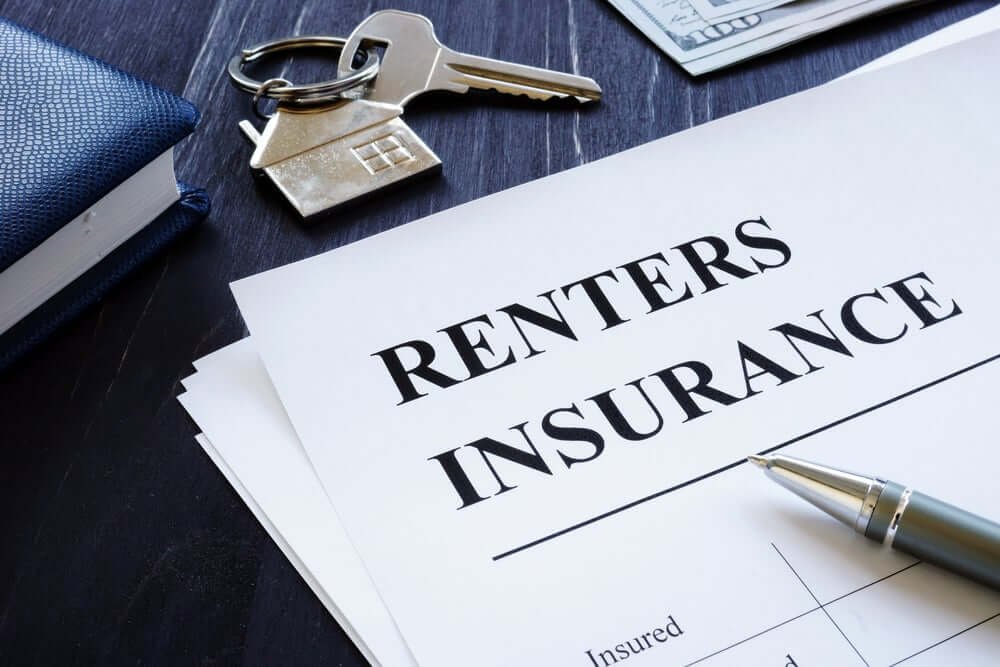 You will only need a tenant's insurance policy if the management company requires a policy to be in place. In other words, if the property owner or the real estate company managing that property requires it, you must take out the policy. 
All this is done to minimize the probability of receiving claims for damages to personal property. Also, to avoid liability cost claims. This type of demand for renters insurance is widespread among landlords. In response, traditional renter's insurance companies make everything fast and effective for their customers.
Liability on a personal level
When an accident occurs at your property, you are protected from legal liability, such as being held responsible for hospitalization costs or loss of pay if a guest is gravely hurt at your residence.
Learn To Get Renters Insurance Declaration Page.
Medical protection is essential.
Coverage covers medical expenses incurred by a person who is injured at home. However, consider that the lower you're earning capacity, the higher the likelihood of needing renters insurance. This also applies to liability and loss of use coverages. However, all liability damages become a financial burden for those who do not have sufficient savings to cover eventualities. 
This type of loss triggers many events that can occur momentarily. There may be people who earn too much money to be responsible for damages, but in other cases, the costs of injuries may be too high to cover out of their income.
Pet owners who rent an apartment
Scenarios can occur where a renter who does not have Renter's insurance and their dog bites someone. In this scenario, liability coverage is responsible for damages of this type. It even pays for the injured person's medical bills. If the person does not have this insurance, they will have to pay all the expenses. 
It is important to note that the cost of an incident of this type in the United States is around $35,000. This type of figure can be very high for many people who live in rented housing because it would compromise their income.
Wealthy tenants
On the other hand, Renter's insurance can give wealthy renters multiple advantages. However, there are many cases where these tenants cannot pay claims for liability and minor damages. This is because they have to do so out of their own pockets. This scenario can leave them without insurance for extensive damages to their personal belongings. Therefore, purchasing a low-cost renters insurance policy is advisable to protect their assets.
Renters are forced to leave their homes.
This type of renter's insurance policy also helps when unprepared for emergencies. Therefore, this type of instrument provides you with financial security. It also covers living expenses due to loss of use. It also covers events such as hotel accommodations, meals, and special transportation in case of a loss. In many cases, tenants must stay in a hotel until they find their new home or where they live is repaired.
College students living off-campus
Renters insurance is also beneficial for college students. The reason is that most students live on campus. Therefore, it is good for them to have their comprehensive security guaranteed. Policies are also crucial for students who do on-campus living and off-campus living.
Last Words
The most crucial decision will be determining your property and liability coverage limits. You must understand how much renters insurance you require.
We recommend that you obtain adequate personal property insurance to cover the value of your goods and personal liability insurance coverage of at least $100,000. These two components safeguard tenants' most significant financial risks. In most cases, are the primary drivers of their insurance policy's cost?