Car insurance is mandatory in North Carolina. To keep your North Carolina driver's license active, you must always stay specific liability coverage on your vehicle. Too many motorists in the Tar Heel State are driving without auto insurance. In North Carolina, you may be eligible for financial compensation if you suffer injuries in a car crash. Here are all details about NC driver's license insurance requirements.
It would be best if you had auto insurance to safeguard yourself against financial hardship in an auto accident. Four distinct kinds of protection come together to form a car insurance policy.
Learn the specifics of your coverages for the following by consulting your policy or getting in touch with your agent.
In North Carolina, all licensed drivers must carry liability insurance. A company must issue the policy with a valid North Carolina business license. North Carolina does not accept out-of-state insurance.
How to get the NC driver's license insurance?
To obtain a driver's license in North Carolina, you must demonstrate financial responsibility by providing proof of Non-owner insurance. You will need Non-owner liability insurance if you don't have your vehicle.
The policyholder's insurance provider must inform the North Carolina Division of Motor Vehicles (NCDMV). 
The NCDMV will notify the vehicle owner via mail that they are terminating the liability insurance. The notice will give the driver ten days to respond. Any drivers who don't react could face the following:
Driving privileges suspended
Punishments in the form of a civil lawsuit
Costs associated with being late
Interests
If your car insurance lapses for the first time, the North Carolina Department of Motor Vehicles will charge you $50. After three or more offenses, the fine increases to $150. 
Once drivers have the required liability insurance, they must pay $50 to reinstate their license. You must send a certificate of insurance (Form FS-1) to the NCDMV before the NCDMV relicenses the driver's vehicle.
Minimum Requirements for Auto Liability Insurance in North Carolina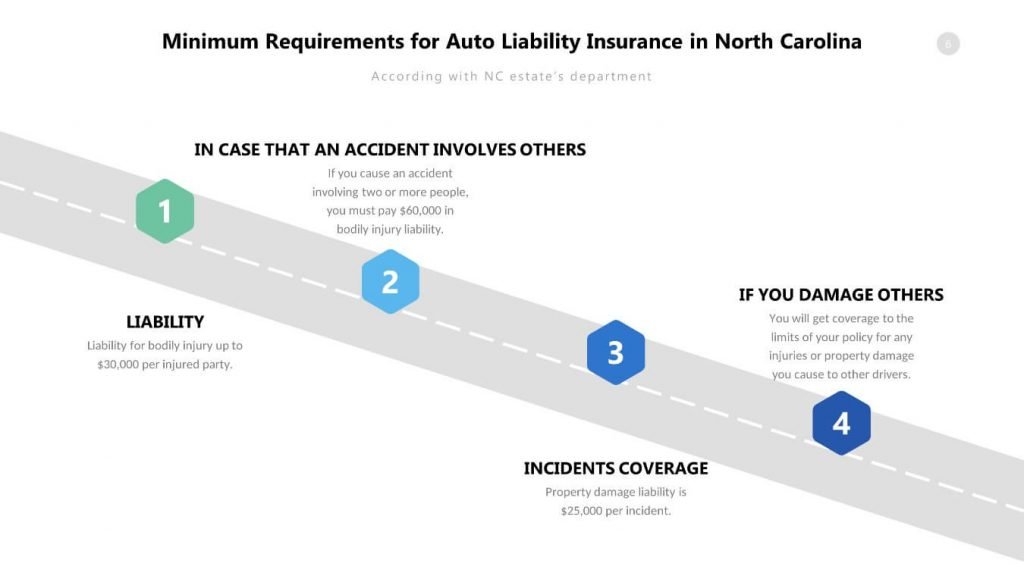 The state of North Carolina mandates the following minimum limits for drivers' liability coverage. 
You can (and, in some instances, should) purchase additional insurance to protect yourself in a significant car accident that causes severe injuries and extensive vehicle damage. In a catastrophic accident, higher insurance limits can protect your assets. 
Your liability insurance will kick in if a family member or someone you've authorized to use your vehicle is involved in an accident. 
Remember that you cannot use liability coverage to pay for your medical expenses or vehicle repairs in North Carolina or anywhere else. 
If you are involved in a car accident, and the other driver's insurance does not cover your losses, you must obtain specific (additional) coverage. In contrast, they use collision coverage to repair or replace a damaged vehicle.
Type of Insurance Coverage
Coverage against risk
Restitution for injuries caused by your negligent driving
State laws typically establish the bare minimum for financial responsibility. This serves as the basis for insurance policies.
Medical expenses and losses resulting from accidents get insurance coverage to protect the cost of medical care for you and any other accident victims.
Accident protection: Regardless of who caused the collision, you are responsible for vehicle repairs.
Comprehensive protection besides collisions, other causes of repair expenses include theft, natural disasters, and vandalism.
Variety of Insurance Plans
In North Carolina, you need to have Liability Insurance on your vehicle. Before purchasing a car in North Carolina, you must obtain a Learner's Permit or Driver's License. When registering a car in North Carolina, you must present one of these documents as proof of identity.
Even if you have years of driving experience at home, the North Carolina Auto Insurance Rate Bureau may classify you as an Inexperienced Driver. 
Consequently, you may be required to pay exorbitant fees, such as $800 to $1,200 for liability insurance for six months. You must pay the price for inexperienced drivers if you are a new driver. 
You may be able to find a lower rate by contacting multiple insurance companies. Once you obtain a driver's license in North Carolina, your insurance rates will increase because you will be classified as a new driver. In the United States, a driver with three years of legal driving experience is considered "experienced."
Minimum Automobile Insurance Requirements in North Carolina
North Carolina mandates that motorists carry liability insurance to protect themselves, their passengers, and their vehicles. North Carolina drivers are required by law to have liability insurance if they cause bodily injury or property damage to a third party. Every driver is required to carry a minimum level of liability insurance.
Additionally, the drivers must carry UIM insurance. If another driver's negligence caused the accident, that driver might not have insurance. 
Ultimately, the at-fault driver's insurance company will be responsible for paying any resulting claims. It is the responsibility of the driver to file a claim for lack of insurance coverage.
The following types of insurance coverage are mandated by law in North Carolina:
Each insured individual must have at least $30,000 in coverage.
Physical harm to two or more individuals costs a minimum of $60,000.
You must ensure all property damage for a minimum of $25,000.
Information Required to Obtain Mandatory Liability Insurance
You Require a Passport. Also:
Specifics about the automobile: Please provide the vehicle's VIN, title, or bill of sale. Certain insurance companies will request this information if they have the dealer's contact information.
Initial insurance premium payment in the monetary form: Some merchants continue to refuse MasterCard and Visa. Checks can be mailed in as payment.
Conclusion
Following North Carolina law, you must report the lapse or expiration of a driver's automobile insurance coverage. This applies to the North Carolina Department of Motor Vehicles. 
To avoid a fine, you must give proof of current insurance coverage to the DMV within ten days. So, failure to comply with the requirements may result in a fine and the revocation of your driver's license plates.
Before submitting an electronic application to www.nipr.com, the applicant must first pass the state licensing exam. 
Following the submission of the license application, you may require fingerprints. 
They will assign you an NPN. As part of the licensing application process, this one-of-a-kind identifier is provided to each applicant. So, the NPN has taken the position of producer license number.