If you don't have insurance and need new prescription glasses, it can be challenging to decide which ones to get. This is owing to a large number of physical and online merchants available. Thus, we have made this article to educate you on how much glasses cost without insurance. Your health coverage may or may not include vision coverage.
Preventive eye examinations and ophthalmologist visits, as well as prescription eyeglasses and contact lenses, may be covered. You may be eligible for savings on elective vision correction surgery if you have vision insurance.
What is Vision Insurance, and How Does it Work?
The cost of glasses, lenses, and eye examinations may reduce with vision insurance. This extra insurance may also assist in defraying the expenses of LASIK surgery. Some people may prefer a vision discount policy, which can be bought individually from insurance and gives provider's discounts rather than co-pays.
Because plans differ, consumers should read the coverage details before purchasing. Some plans cover vision exams completely, while others charge co-pay. Similarly, different providers and policies cover different glasses, lenses, and contacts.
What does Typical Vision Insurance Exclude?
Many insurance firms will not pay for LASIK surgery since it is considered elective. Some insurance policies provide discounts to help with the expenses. Only your health insurance will cover other medically essential eye operations and treatments for illnesses like glaucoma and cataracts.
Vision insurance frequently covers only specific brands or price ranges for glasses or contacts. It's crucial to know what's covered so you're not left disappointed and forced to switch to another brand. Other exclusions differ, depending on the price range and intensity of the plan.
For example, some cheaper options may cover only glasses and not lenses.
How Much Do Glasses Cost without Insurance
If you wish to purchase new glasses, contact lenses, or alter your current glasses or contact lenses in the United States, you will need a valid prescription from an eye doctor.
If you don't have health coverage or if your insurance doesn't cover eye care, you will be responsible for the total cost of your glasses and lenses.
Though the entire cost is dependent on the kind of glass frame and lenses, if you don't have insurance coverage, you might wind up spending a lot of money.
According to studies, if you don't have vision coverage, it will cost you roughly $360 on average. The average cost of frames is $242, while the average price of lenses is $113. As a result, the overall cost is expected to be about $351. According to the Consumer Reports study, frames and lenses at eye physicians and independent eyeglass stores will cost roughly $400.
Average Cost of an Eye Exam in the United States
Before the doctor can recommend glasses, you'll need to have an eye test. The cost of an eye checkup varies depending on where you reside in the United States. In the United States, the following are the average expenses of eye exams:
An initial eye examination with an optometrist costs $200.
$46 for a refractive vision test
Eye exam for established patients: $128
You will require more money than the essential eye checkup cost if you have a pre-existing eye ailment. Furthermore, the doctor may prescribe medication, which will incur additional charges.
Glasses price ranges in the United States
Glasses are expensive in the United States when compared to other products. For a single pair of glasses, you can expect to pay anywhere from $50 to over $1,000.
The price is usually determined by the quality of the glass frame and lenses. According to Vision Service Package, the average cost of glasses in the United States is $190. If you do not have vision coverage, you will be responsible for the entire cost.
Many reputable retailers occasionally provide coupons or other special offers to help you save money. Your price will be lower if you have eye coverage, and you can call them to find out how much coverage they will provide for your eyeglasses.
What should you pay for Glasses?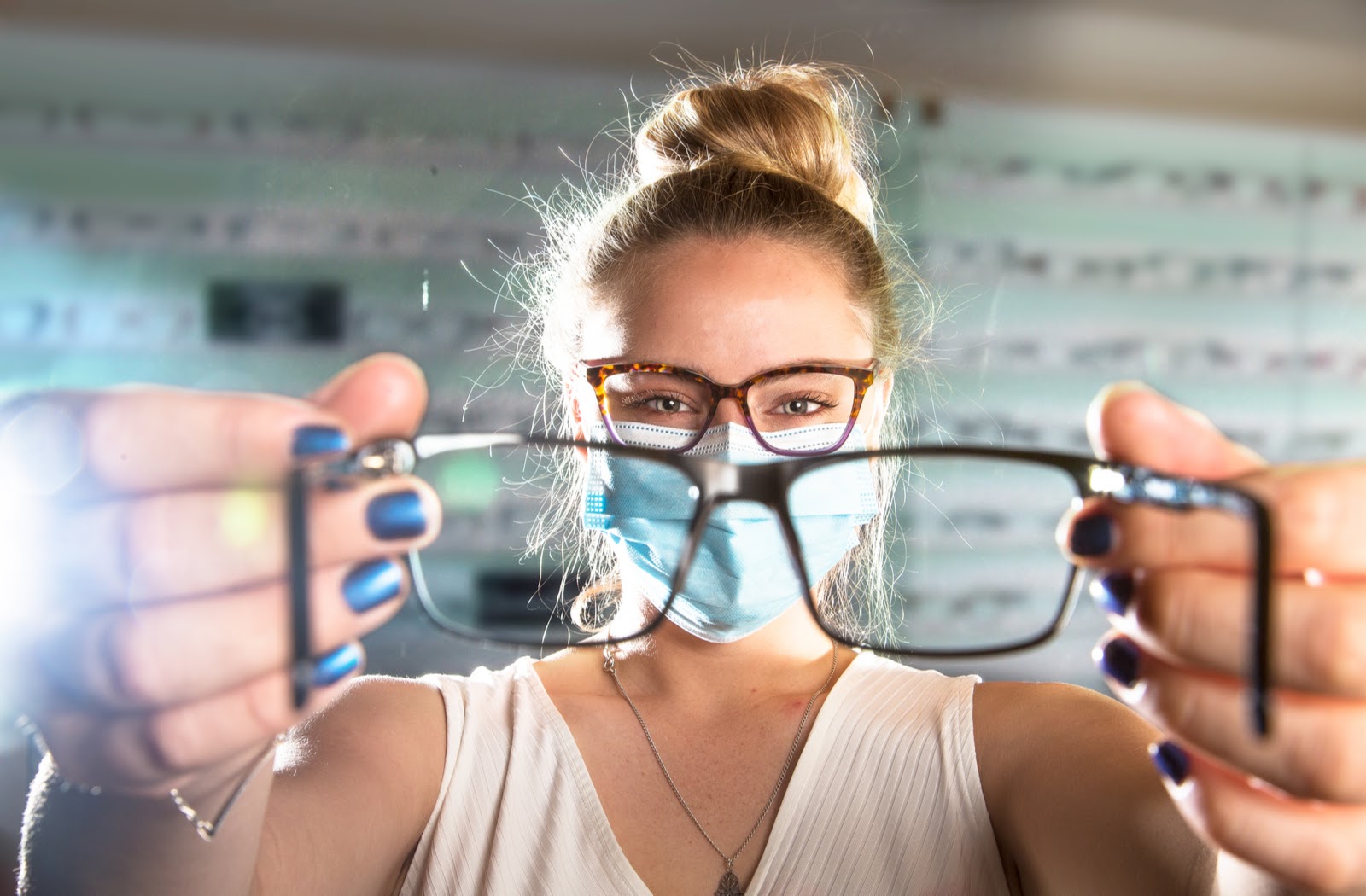 Setting a budget for your eyeglasses is a good idea. A budget will assist you in determining how much you can spend on glasses. If you have vision insurance, it will cover a significant portion of the cost of your glasses.
You can also add extra features such as anti-reflective coating. Before buying the glasses, you should verify with the merchant. There is a lot of detail that gives discounts, and you may find out about them by reading the reviews.
You may also ask your eye doctor for recommendations and see if they can advise any inexpensive merchants for your glasses. Regardless of your budget, you should invest in a comfortable pair of glasses that you can wear throughout the day.
Glasses Insurance: Best Companies
You may choose from the following providers if you want excellent eye treatment at a reasonable price:
Service Plan for Vision (VSP)
VSP was formed in 1955 by a group of optometrists and has gradually expanded to more than 88 million members and 40,000 network physicians throughout the globe. In the United States, VSP has hundreds of private practice physicians and over 700 Vision works facilities.
Standard, EyewearOnly120, Easy, and Enhanced are the four categories of VSP plans. Monthly premiums for the Standard plan start about $12, with a $16 eye test fee covering up to $160 in new eyeglasses. 
Scratch-resistant anti-glare films, advanced optics, and UV protection are available as lens upgrades. VSP also gives savings and resources to people with diabetes, who typically have critical visual skills due to their illness.
VSP benefits cannot be paired with Medicaid benefits, a disadvantage for those presently on Medicaid. That implies that if you used VSP's $150 credit to pay for glasses but still owed $50, you couldn't utilize a Medicaid credit to make up the difference. You'd have to pay for it yourself.
EyeMed 
EyeMed, which was launched in Cincinnati in 1988 and now has over 60 million members, was formed in 1988. It provides three levels of coverage.
The higher the discount on frames and lenses you obtain, you pay more premiums. Each plan includes an eye checkup and substantial savings on glasses and contact lenses.
The most primary subscription is EyeMed Healthy. This starts at $5 a month and offers a voucher discount on glasses and contact lenses. The more expensive plans, which cost $18.50 and $32 per month, provide better benefits. Instead of a coupon, these programs offer you an allowance for frames and lenses.
You can also cover the cost of lens enhancements like UV protection with co-pay. You can get a 15% discount on LASIK if you visit one of EyeMed's more than 100,000 in-network providers. This is in addition to a 20% discount on any remaining frames over $150 and a 40% discount on additional pairs of glasses.
UnitedHealthcare
In 2003, UnitedHealthcare acquired Golden Rule Health coverage (started in 1940). As a result, it has grown to become one of the country's primary healthcare providers. It has a 75-year track record of serving more than 46 million people. It also boasts a network of 1.3 million doctors.
Plan A and Plan B are the two comprehensive vision plans UnitedHealthcare offers. People who wear either glasses or contacts should choose Plan A, while those who wear both should choose Plan B.
Plan A premiums start at $10.40 per month, while Plan B premiums start at $14.30 per month. Neither plan has a waiting period. Both programs have $10 co-pays for vision tests and $10 co-pays for lenses.
 In addition, there is a $150 allowance for in-network frames and no co-pay for contact lenses.
UnitedHealthcare's networks include over 80,000 providers in 44 states and the District of Columbia. QualSight LASIK offers physicians up to a 35 percent savings on laser eye surgery (LASIK). Your overall rates will be lower if you bundle your vision insurance with other UnitedHealthcare coverage, such as health or dental.
Frequently Asked Questions
How much do glasses cost without insurance?
According to studies, if you don't have vision coverage, it will cost you roughly $360 on average. The average cost of frames is $242, while the average price of lenses is $113. As a result, the overall cost is expected to be about $351.
What does typical vision insurance cover?
Annual examinations, lenses, frames, and contacts are usually covered by vision insurance. Higher-tier plans may be available, with visits for contact fits, lens care, and LASIK surgery included. Programs may protect certain brands, and the cost of frames and contacts may be limited.
Is investing in vision insurance a good investment?
Yes. Paying for vision insurance is worthwhile due to the many benefits it offers.
Is it possible for me to buy my vision insurance?
Yes. You may purchase your eyesight coverage. You may get vision insurance for your eyes regardless of your health or other insurance.
Conclusion
In conclusion, vision insurance comes with various merits. And if you desire more guide on how much glasses cost without insurance, the highlight above will aid you immensely. 
References