In most situations, health insurance remains valid for at least two months after cancellation, but some people retain their coverage for up to three years. Some companies may terminate health insurance policies on the day of cancellation. Another option is to hold out until the end of the month. Let's learn how long is health insurance active after termination.
There is no law requiring coverage for a certain amount of time. The fact that an employee is removed from their position for "gross misconduct" is an exception.
You may be concerned about the health insurance coverage provided by your employer if you lose your job. (COBRA) This measure ensures that professionals who meet the eligibility criteria can keep their health insurance if they lose it due to resignation from their job or a reduction in working hours that brings them below the company's coverage level. 
However, COBRA allows former employees to keep their health insurance coverage, but there is an important caveat: you are responsible for all health plan expenses. The employer is no longer willing to help. It also allows you to keep your current health insurance policy at a considerably higher cost.
How long is Health Insurance Active after Termination?
Employees, spouses, and dependent children terminated for reasons other than gross misconduct may maintain coverage for 18 months. These individuals are also eligible if their employer reduces their hours and they no longer qualify for employer-sponsored health insurance.
A disabled person can maintain it for 29 months. In some cases, clients can keep COBRA for up to 36 months. 
How much does COBRA coverage cost?
COBRA members are responsible for paying up to 102% of healthcare costs on their own, with no help from the company.
The employee typically covers One-quarter to one-third of these costs. The employer bears the remainder.
On the other hand, COBRA insurance requires the individual to pay the entire premium and a 2% administration fee.
When must you decide on a COBRA plan?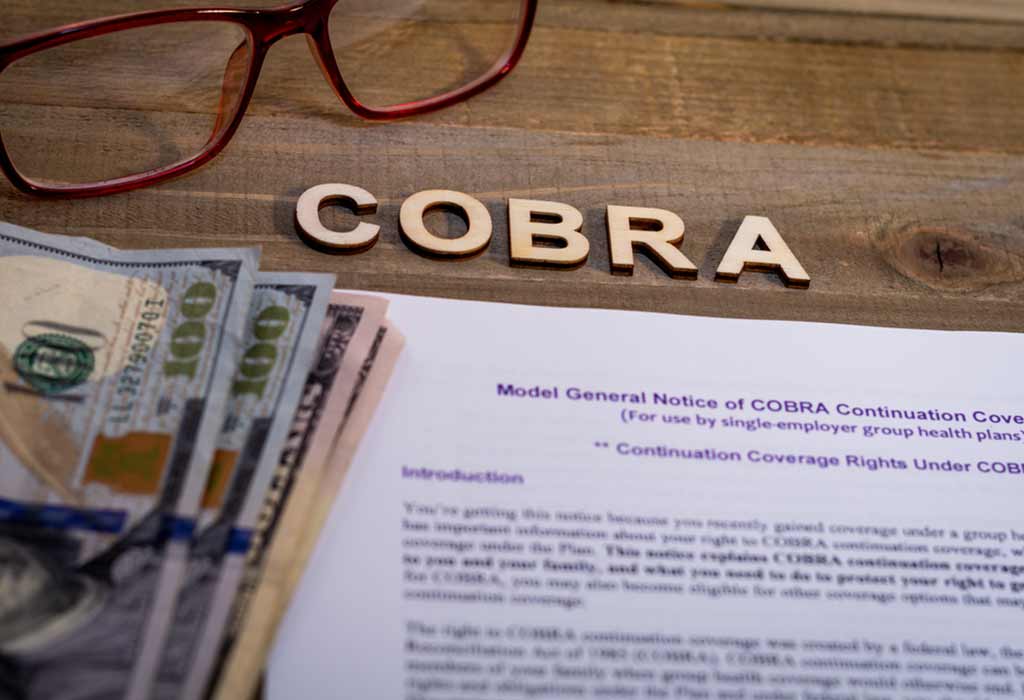 Your coverage will return to your termination date (60 days). Whether you register on the first day or the 60th day, you will have to pay the full 60 days of premiums.
In addition, you have the option to decline COBRA coverage as long as your spouse or dependent accepts it.
If the individual receiving the benefits is handicapped and fulfills other requirements, they may be entitled to extend their COBRA coverage for an additional 29 months.
The employee pays the whole premium at the group rate negotiated by the company, which is often less expensive than acquiring individual insurance on the open market. In some situations, there are exclusions to the standard. A spouse receiving COBRA payments due to their spouse's layoff is eligible for benefits for 18 months. The spouse's eligibility is extended to 36 months if the employee dies during the 18 months.
The administrator must send out an election notice to advise beneficiaries of their opportunity to elect COBRA coverage after receiving a qualifying event notice. Beneficiaries have a period of 60 days to tell the administrator whether they want to maintain their insurance coverage under the COBRA program.
If your employer's health care plan administrator (either your company or a third-party administrator) manages its plan, you must receive a series of reminders from the administrator concerning your access to COBRA coverage. The plan administrator must notify the employer or the employee when a qualifying event occurs (who is responsible for giving notice depends on the type of event).
Additional Ways to Get Health Coverage after the Expiry
In addition to COBRA, other health plans may be available to you. However, your spouse's plan is not the only alternative. Here are three alternative options to consider:
Although an ACA plan provides comprehensive health benefits, it can be more expensive than an employer-sponsored plan. 
Medicaid provides low-cost comprehensive health care to low-income Americans. Thirty-seven states have increased the number of people eligible. Your income determines the amount you pay in premiums. Medicaid can be a low-cost, comprehensive health plan alternative for millions if you lose your job.
Short-term health plans are available to most Americans. Under the Affordable Care Act, these low-cost plans are not strictly called health insurance. These plans can also carry a lot of out-of-pocket costs.
These plans last for one year and can be extended twice. Short-term goals are prohibited in some states, and others impose duration restrictions. It is essential to read the description of the short-term health plan carefully to know what it does and does not cover.
What if you lose job-based health insurance?
If you lose your work-based health insurance, you have two main possibilities:
Enroll in COBRA coverage through the Health Insurance Marketplace (HIM).
Option 1: Use the Marketplace to get a health insurance plan.
If you received or accepted unemployment compensation in 2021, you may be eligible to enroll. If you qualify for this particular enrollment period, Marketplace will contact you shortly after submitting your application.
Option 2: Sign up for COBRA insurance.
For example, COBRA is a federal regulation that allows you to pay to continue your employer-provided health insurance for a specified time after your employment expires (usually 18 months). 
Frequently Asked Questions
How does Health Insurance Continuation work?
When considering your alternatives, keep these four points in mind.
COBRA does not apply to all employers or employees.
The premium contribution made by your company is no longer available to you.
Global trade has resulted in job losses.
TAA (Trade Adjustment Assistance) is an option.
Individual coverage is available now.
How to Prepare To Leave a Job?
Examine all of your health insurance options before you leave your job. Keep in mind that each person's medical and financial circumstances are unique. You may be able to continue coverage through COBRA, or you may prefer to enroll in an individual plan through the Marketplace.
How may COBRA be discontinued?
COBRA, for example, is a federal regulation that will enable you to pay to continue your employer-provided health insurance for a specified time after your employment expires (usually 18 months). 
What would happen in the event of company closure with health insurance?
When a company goes bankrupt, the health plan goes bankrupt with it. If the health plan is unavailable, laid-off workers will not be eligible for COBRA. However, the health plan often ceases when a company closes its doors. COBRA is only available until you pay the health plan payment in full.
Bottom line
Since we don't have enough privacy, you will likely need to take a few steps until you completely let go of your old job. Nearly half of Americans have health insurance provided by their employer. If you have recently lost your job, you will want to get new insurance as soon as possible. You will be able to renew your old plan for a new one if you go to a new job immediately. 
You should avoid cashing out the report as much as possible. They will charge you taxes and penalties, not to mention jeopardizing your financial stability if you leave the job for good.
In the event of a layoff or termination or if an employee becomes otherwise ineligible for benefits, for example, they quit or their hours are reduced below the employer's minimum for receiving benefits), the Consolidated Omnibus Budget Reconciliation Act, or COBRA, allows them to keep their employer-provided health insurance.
Employees can take advantage of COBRA coverage for up to 18 months. Up to 36 months of COBRA coverage is available to an employee's spouse or dependent child who becomes eligible for benefits other than the employee's qualifying event. When a worker dies, his or her spouse entitles to 36 months of coverage.