Based on your insurance needs, one over the other has advantages. An experienced broker or agent can help consumers or businesses acquire insurance. Let's learn real estate vs insurance.
You could be a killer realtor, sell million-dollar listings all day, and make way more than an insurance agent. Still, from a profitability standpoint, selling $100,000 worth of real estate each year at 6 percent, you make $6,000 in year one and again in year two. 
Still, if you sold the $100,000 price of insurance at 6 percent, which is low (closer to 8–10 percent = reasonable estimate for commission), you would make $6,000 in year one, and you'd make $6,000 in year 2 PLUS your year one renewal.
In the balance of things, if you felt you would love both equally, we suppose an insurance agent will eventually earn more income for fewer work hours than a realtor. 
Real estate is an onsite business if you like being out and about, whereas insurance sales will take over the phone, especially regarding personal care and home product sales.
What are the main similarities between Real Estate Agents vs. Insurance Agents?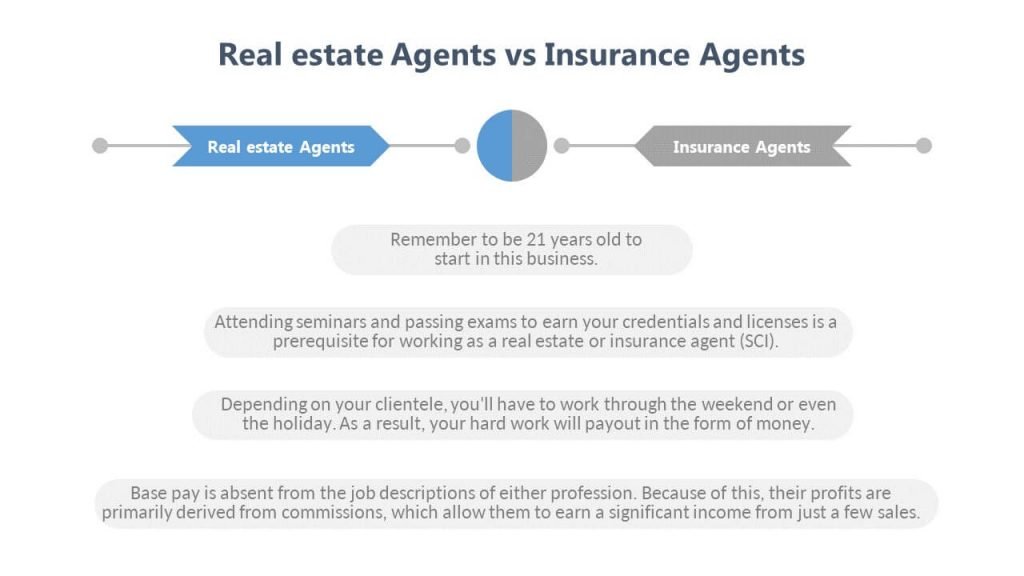 Real Estate vs Insurance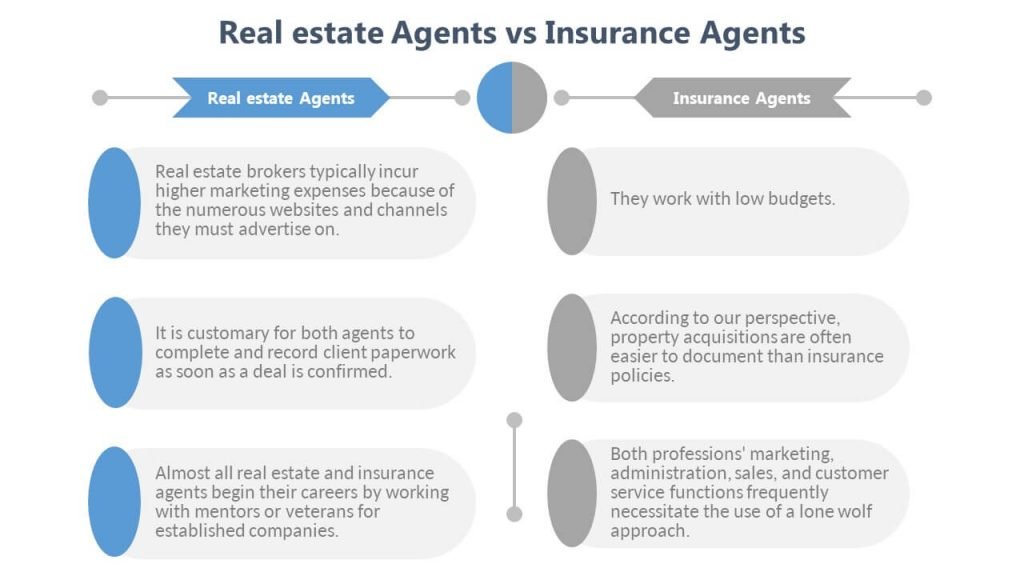 Communication and Grooming
Every client wants to work with someone trustworthy and excellent when selling a multi-million-dollar home or hundreds of thousands of dollars in insurance policies.
Because of this, both professions need to be dependable, knowledgeable, and effective communicators. When making a good impression, dressing and personal grooming are just as important as your demeanour.
Imagine handing your house or insurance coverage to someone who greets you in berms and slippers — uh, you probably wouldn't want to do that.
After-Sales Service
Effective real estate agents communicate with and share information with their clients regularly. Prospects who didn't buy from them can be retargeted by the outstanding ones with a system in place. As a result, Insurance Agents get benefits from these practices.
Unless they are obligated to communicate any messages between landlords and tenants, rental brokers typically contact 1-2 times during the lease period. After-sales service is critical for insurance agents.
They must review their customers' insurance plans and financial status annually to recommend any necessary changes. They'd also need them to help with insurance claims in tough times.
Travel Opportunities
They sometimes hire real estate agents to market their newly launched properties in other countries.
This indicates that you may be able to travel to other countries and study their marketplaces to develop your clientele there.
International opportunities for insurance agents are slim to none.
Closing deals
Since they are frequently requested to negotiate the terms of a sale and prices, real estate agents must have strong negotiating and interpersonal skills. Additionally, he needs to observe and assess a potential customer to obtain his client's most significant possible benefit.
Insurance Agent: Insurance agents are not needed to haggle as much because the insurance agency sets the costs and terms of the policies.
Responsibilities of Insurance Agents vs. Real Estate Agents
Insurance and real estate professionals must market their services to grow their clientele. Real estate agents may also be tasked with selling the properties for which they act as agents.
Both of them require the assistance of their customers to gather data. Real estate agents frequently travel to properties to obtain information for listings or show them to potential buyers, while insurance professionals occasionally travel to meet with clients.
Keeping records and preparing paperwork for customers are both a must. Unlike real estate salespeople, insurance agents do not determine policy prices or negotiate to alter a sale's conditions.
Insurance Agents
Insurance agents, also referred to as insurance companies, employ insurance sales agents most of the time. However, a few people work for themselves. Overtime and nighttime work are standard practices for insurance brokers.
Selling insurance to customers is a significant responsibility of insurance agents. As a result, they must communicate clearly and effectively to succeed in this line of work. Although most insurance brokers sell a wide range of policies, others choose to specialize in a single type of insurance, such as life or health insurance.
Job responsibilities of an insurance agent include:
Promoting services to clients
Evaluating their clients' insurance needs
Updating client policies
Storing documents
Answering client questions
Real Estate Agents
Real estate agents work with clients who want to buy or rent a home or sell or rent a property. As a real estate agent, you'll need to know how to offer your services and maintain track of your finances. Resolve contracts. They'll require strong negotiating skills. In a real estate office or at home, they may choose to work extra hours, and it's common for real estate agents to work long hours.
Job responsibilities of a real estate agent include:
Promoting homes, they have offered for sale or rent
Answering client questions
Finalizing sales and rental contracts
Insurance Broker Salary
According to Zip Recruiter's employment website, an insurance broker can expect to make an average of $84,989 per year by 2021, with salaries ranging from $23,500 to $177,500. Income is influenced by various factors, including the employer and location.
Average incomes in Washington, D.C., are the highest at $94,614, $93,411, $91,463, $91,463, $91,262, and $91,156 according to Zip Recruiter. 
When comparing wages across regions, keep the local cost of living in mind. The cost of living often raises in tandem with a person's salary. Use the cost of living calculators, such as the free online calculator at Pocket sense, to compare expenditures in different cities across the United States. If you have to pay more to keep your standard of living the same, moving to make more money may not be worth it.
Real Estate Agent Salary
According to Zip Recruiter, real estate brokers make an average yearly salary of $51,254, with earnings ranging from $17,500 to $100,000. Sunnyvale ($64,761), Vacaville ($59,536); Fairfield ($58,817); and San Mateo ($58,475) also had higher-than-average salaries, according to the report. 
According to their earnings reports, they made more than the average salary in Cambridge, Massachusetts ($60,703), and New York City ($58,872). The rising cost of living has a direct impact on household budgets.
The Bureau of Labor Statistics predicts that real estate sales agents will have a 7 percent increase in employment between now and 2030. In comparison to other vocations, speed is considered regular.  
Bottom line
Our community needs real estate and insurance agents because most people need help comparing and understanding the subtleties and comparisons of each product. 
There is a plethora of careers in real estate and insurance that will always be in demand in today's society. If you're going to compare different products, you're going to need some help deciphering the finer points of each one. Regardless of your career path, you'll gain a wealth of personal growth and development from both.